Inaugural Free International Seminar On Teaching And Learning For Principals Ends In Awka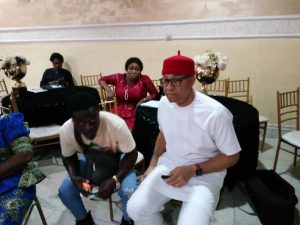 Inaugural Free International Seminar On Teaching And Learning For Principals Ends In Awka
Give a child quality education and he will rule the world came to the fore during the inaugural Free International Seminar on Teaching and Learning in Awka for principals of public and private secondary schools in Anambra State.


The seminar organized by IDOMI Foundation and Life Care Coalition Outreach in collaboration with Anambra State Ministry of Education, attracted about one hundred principals selected across the State.

The theme of the seminar is, "The Role of The School Principal in Arresting the Declining Trend in the Standard of Education in Anambra State, Nigeria".


In his presentation, the Chairman of IDOMI Foundation, Dr. Chinedu Ikeanyi, said for a child to receive quality education in a school, the school has to be effective and for the school to be effective, the principal must be effective adding that the role of the principal is to make sure that the school is effective.

Dr. Ikeanyi who has been an instructor for several years in the United States, took the participants on how to impact quality and effective education on their students.



He disclosed that IDOMI stands for Igwe Davidson Okafor and Mercy Ikeanyi, his parents who he said had great value for education, noting that organizing the workshop is to honour their legacy.

Also speaking, the chairman of Life Care Coalition Outreach, Dr. Emeka Anagor, explained that education is key to knowledge and life.


While also describing principals as key to quality education, Dr. Anagor charged them to become big dreamers and ensure they achieve their dreams.

In her remarks, the Chairman of the Post Primary Schools Service Commission, Professor Nkechi Ikedigwu, thanked the organizers of the event and appealed to them to increase the number of participants next time so that many will benefit.


Earlier in his comments, the Chairman of the day, Engineer Paul Enidom, pointed out that the government alone cannot handle education issues and encouraged all to pull efforts to ensure that education in Anambra State is raised to international standard.

Mrs Oby Anagor, co- Founder of Life Care Coalition Outreach, advocated increased government interventions in the education system to enable every student to benefit maximally from the teaching and learning process.


In an interview, some of the participants, including Comrade Celestine Nworah from Saint Mary's High School Ifitedunu and Dr Vivian Uche, from Saint John of God Secondary School, Awka, said the workshop was impactful and promised that they will step down the knowledge garnered to others to ensure it permeates their schools.